The Power of Pavilions
by Better Wood, Editor, the Spaces
The Worlds' Fair has a legacy for producing some of the world's boldest and iconic landmarks. From the Eiffel Tower, built for the 1889 Exposition Universelle in Paris, to Seattle's cosmic Space Needle at the 1962 World's Fair; or Montreal's geodesic biodome at Expo '67.
Al Wasl Dome looks set to become the jewel of Expo 2021Dubai – a 360-degree projection surface that will immerse millions of visitors in an ephemeral audio- visual experience. But when it comes to demonstrating the power of narrative architecture, it's the national pavilions that really pack a punch.
While the Norwegian Pavilion's cantilever form appears restrained at first glance, the half-boat, half-whale maritime structure speaks instantly to Norway's connection to the ocean, thousands of miles away. Similarly, the foggy incline of the Swiss pavilion sparks a sensory connection to the Alpine nation, echoing the spatial memory of its national landscape.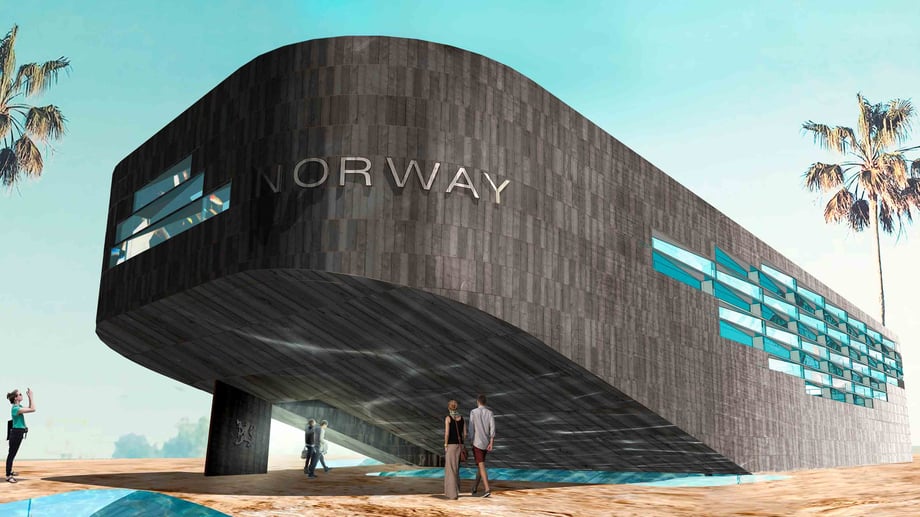 Pavilions have long been the experimental vehicle through which architects tell stories about national identity, travel and innovation. Often temporary, smaller and cheaper than permanent buildings, they offer creative freedom that belies their technical nature and are among the most whimsical and avant-garde structures that can be re-used, re-staged and recycled.
Pure folly
Modern, adaptable pavilions owe much to the ornamental follies that dotted Europe's landscaped gardens during the 18th century. These seemingly 'frivolous' structures showcased their owners' wealth with elaborate, experimental forms inspired by exotic locations and by-gone eras.
But I must exp
lain to you how all this mistaken idea

Betty Wood, The Spaces
England's Stowe House is home to a cache of follies that dot its landscaped grounds designed by Capability Brown. Among them a Temple of Ancient Virtue and Temple of British Worthies, and Gothic ruins designed by architect James Gibbs.
The rise of "Artitecture"
Perhaps no one has capitalized on the transformative nature of pavilions so perfectly as the art world. It's no coincidence that the biggest annual architecture commission in the UK is organised by the Serpentine – an art gallery that under- stands the power of narrative to transform, having taken over a Grade II-listed former tea pavilion built in 1933 by the architect James Grey West.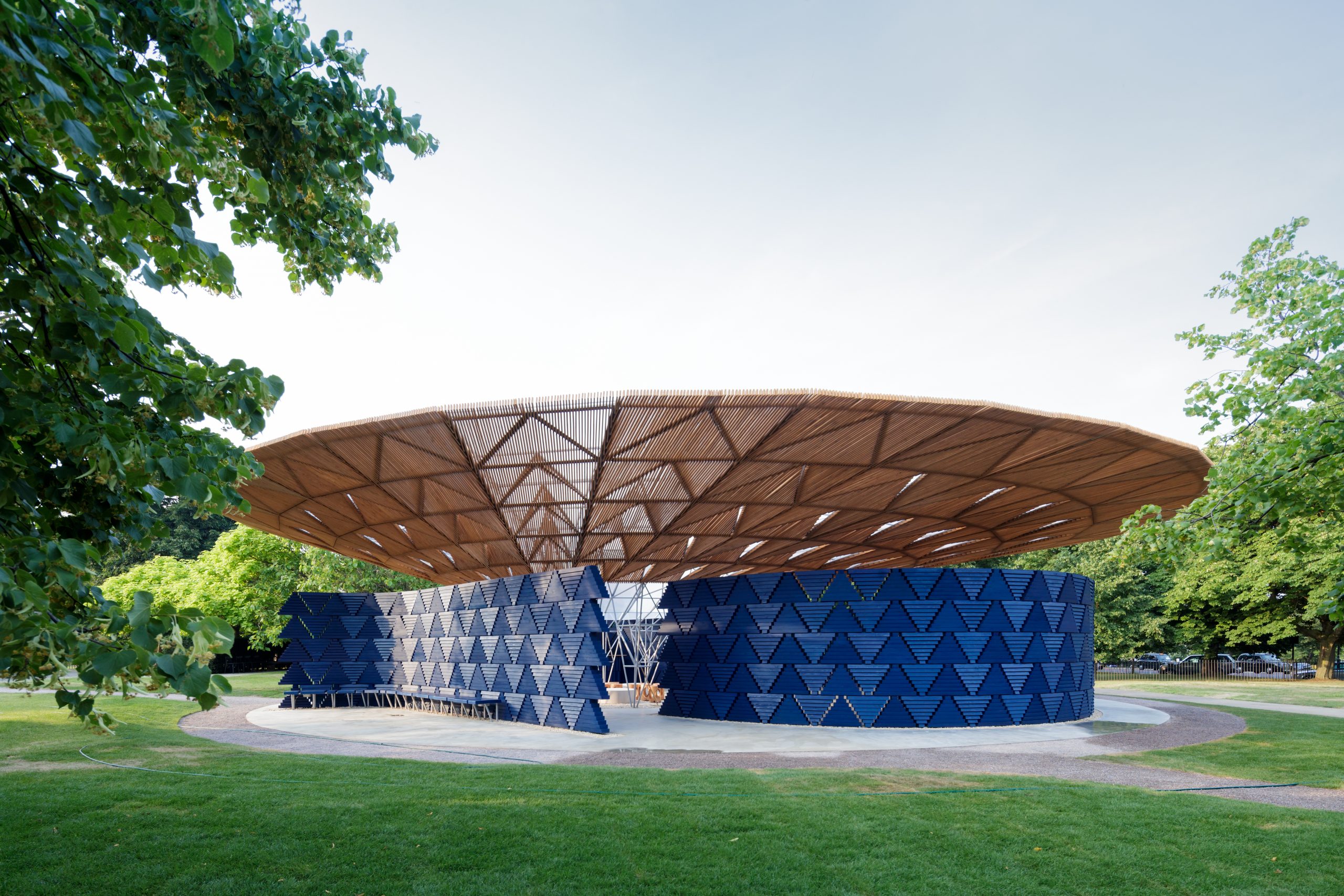 Among recent participants is Burkinabé architect Diébédo Francis Kéré, whose bright blue 2018 pavilion evoked the shape of an African tree canopy and riffed on the British obsession with the weather. The central tree is a meeting point in Kéré's village of Gando, and its mimicked form provides shelter from the English rain, bringing together the two cultures in a grand architectural stroke.
Across the city, the Dulwich Picture Gallery invited British-Nigerian artist Yinka Ilori and emerging architecture practice Pricegore to bring colours of Lagos to South London with their 2019 Dulwich Pavilion, The Colour Palace. Commissioned in partnership with the London Festival
of Architecture and open throughout the summer, the brightly coloured temporary structure is the physical manifestation of bold Nigerian textile patterns – so integral as a visual identifier of the colourful African nation.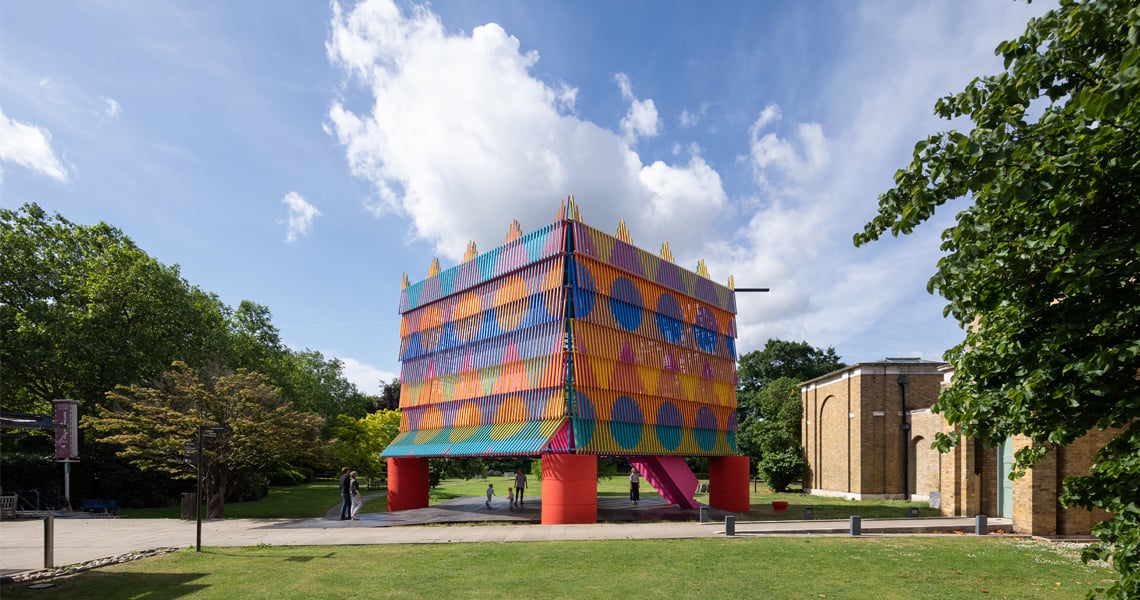 Experiential design
Though Kere and Ilori's designs couldn't be more different physically, they share a commonality: they embody a very specific national characteristic from their design- er's home nation.
Visitors to Kere's Burkinabé tree could gather to communicate beneath its canopy in London, while Ilore's bright geometric design recalls the bold patterns and excit- ing bustle of a Lagos market.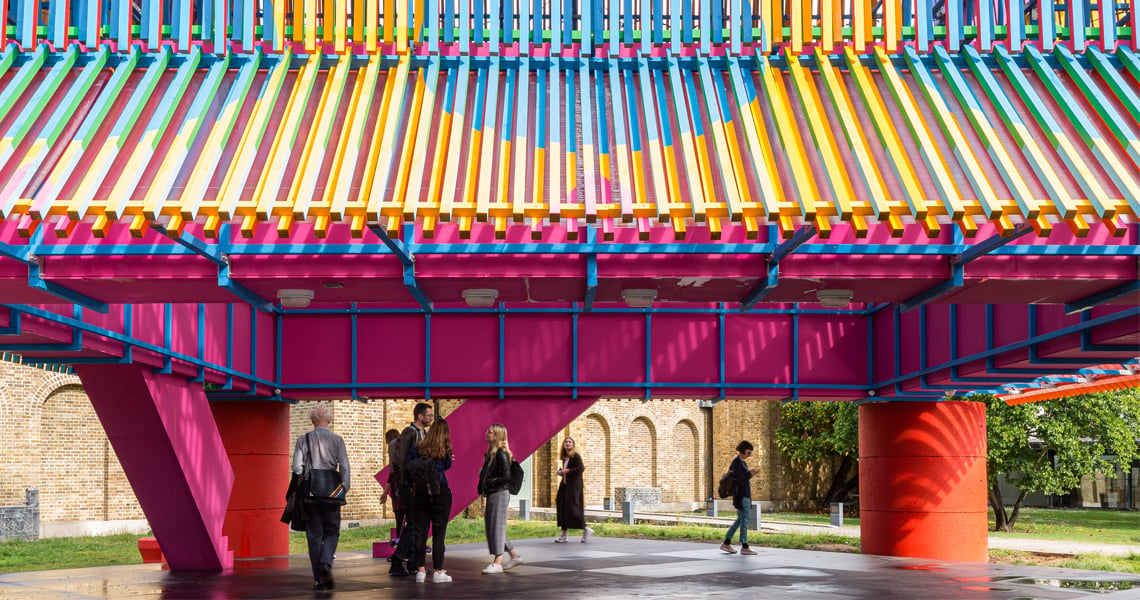 If the success of the pavilion's 18th-century cousin was to delight and transport, then the value of their modern counterparts can be measured in how they embody their creator's culture as an experience.
After Expo 2020 Dubai wraps, in keeping with its themes of sustainability, mobility and opportunity, many of the site's national pavilions will go on to start new roles. Hopefully, their second lives will be just as adventurous as their first, allowing a piece of their national identity to take new roots and gain new meaning abroad.